Want to know the difference between a business doing fairly well and one making a healthy profit? An optimized conversion funnel is the answer! You work hard on your marketing campaigns and conversion funnels help in maximizing the profit you earn.
Having a website for your business means you automatically have a conversion funnel. You just need to work on it to bring the desired results. If you want your customers to take an action through the website you have a conversion funnel in place. But the question is, are you satisfied with your conversion rates?
Conversion Funnel 
The path potential customers take when converting into paying customers can be visualized by a conversion funnel. When you have the process in sight, you'll be able to improve the flow. Here's a simple image showing the steps usually involved in a conversion funnel:
At the first stage, the potential customer comes in contact with your brand and becomes aware of its existence. This can be through social media, paid ads, blogs etc. Then the customer becomes interested in the product through the options you offer moving on to building a desire for it. And lastly you convince them to take an action (buy or sign-up).
Now let's study these steps in a bit more detail.
1. Awareness
Instead of pushing prospects in the conversion funnel you need to pull them by making them aware of your brand.
To reach a new audience you can employ a number of different strategies but the following ideas are worth giving a shot:
Social media: with the right campaigns and targeting, you can reach your ideal audience.
PPC campaigns: these help in targeting users who are actively searching for a product/service i.e. getting you qualified traffic.
Organic search: you can reach users as they search at a low cost.
Remember to keep your focus on quality over quantity to make best use of your time and budget as unqualified leads will not move on to the next step of your funnel.
2. Interest
Through your content and website it is now time for building interest of your audience in your product/service.
Find out what the users' concerns, needs, issues and goals are and then address those needs in your content. You have to position your brand as the go-to place on the subject; this can be done by publishing informative blogs, resources, guides etc that will let your audience know exactly what you're offering.
It has to be engaging and interesting content that can help you build a relationship of trust and likability with the audience. In order for them to move down the funnel, you will need to give them something that requires access – like a signup form before a downloadable guide. They exchange their email for the downloadable content and now your casual visitors become your leads!
You can keep emailing them more helpful content so they can stay in the funnel, keep moving through it and don't forget about you. At this stage they will be evaluating your product to see if it's what they're looking for so you need to convince then by proving the value you provide and why you're unique.
3. Desire
At this stage you need to convince your leads completely that your brand is exactly what they're looking for.
You can make use of a drip campaign or email autoresponder to keep building the relationship between you and the potential customers. People are looking for a solution to their problem – tell them how you can solve this problem for them and why your solution is better than what others are offering.
Note: good and convincing content is key to changing interest into desire.
4. Action
This is the ultimate goal i.e. the bigger action you want your lead to take – buy your product/service. A small percentage of leads that enter your funnel make it all the way to this stage but with the right strategies in place you can increase the leads in each step.
Creating a Website Sales Conversion Funnel
In order to maximize your sales and revenue you need to work on your conversion funnel so your visitors can turn into leads and leads into customers. Here are the steps you can take to achieve this:
1. Make an outline of your buying process
The conversion funnel given above is just an example of a simple one – yours can be more detailed with the steps, goals and processes you want to add. Studying your funnel will tell you how your users move through your website and how you can increase the prospects at the 'purchase' level.
While building your conversion funnel, try to visualize how visitors move from their first interaction with the website to becoming a customer. For an ecommerce site, the buying process can look like this:

Like the images shows, visitors arrive, check out the pages, add something to their cart and complete the purchase process before checking out. This may seem pretty simple but have you noticed only 2.2% of the visitors made a purchase?
The path you'll map out will be that of an ideal scenario but it won't be the only way your visitors reach your website. Visitors can reach your website through various ways:
You can't have separate funnels for all of these paths but you need to be aware of them all so you can have an accurate idea of how users can become customers. You can't push all your visitors through the same funnel because they might be taking an alternate path and hence you won't see them going through your predetermined steps. Also, you don't want to miss optimization opportunities on pages that one version of your funnel doesn't include.
Start off by determining what the most important goals on your site are. Typically, these are sales or leads from submissions. Put this action at the bottom of the funnel them figure out which steps a user needs to take to reach this goal.
Other actions (aside from main goals) can be downloading or signing up for something so they're essential to include in your funnel and can be easily tracked and measured.
Let's see what a path will look like on a B2B site for a user:
As shown in the image, at the top of the funnel, the visitor looks for information and after they provide their email address on the landing page, they get an email with an offer. They click on the link (convert again) and receive yet another email with one more offer. They convert finally and are now in the sales cycle.
Before taking any action, the user browsed the website and spent time on it (micro-conversion) ultimately moving on to the next steps. So, work on your micro conversions before you work on the big ones.
Take the example of Amazon where every product page offers several ways to make a micro conversion. Users have access to videos, reviews, FAQs and checkout special offers which make them learn about the product and closer to making a purchase.
Your micro conversions can range from wanting users to add products to their cart to sharing your content on social media, from visiting certain pages to watching a video – the bottom line is these actions help the visitors in learning about and engaging with your brand so include them when you create your funnel.
2. Measure your site's performance
After figuring out what your funnel will look like, you need to measure the movement of the users through the site. This can be done by setting up conversion goals in Google Analytics – the more information you provide on what you plan to achieve the better the results will be.
The best way to go about is to set up conversion goals at every stage of the funnel – at least one goal for each stage. Goals can also be added for all your major conversions also (email list signup, purchases, form submissions etc.).
Here's what you need to do to add a goal:
Go to Admin settings in Google Analytics, select the View and then click Goals.
Then click on "New Goal" after which you can choose different options for setting the goals. You can also look at the templates to see if they match the conversions you want to measure otherwise you can set up custom goals.
There are four options available for custom goals:
Destination – for getting the user to visit a specific link
Duration – the amount of time a user spends on your site
Pages/screens per session – for getting the user to visit a pre-set number of pages
Event – for the user taking action on an element tracked with JavaScript
All of these are helpful options but for high-level conversions you can go for Destination goal because after a user takes an action, you should be sending them to a Thank You page. Through Thank You pages you can show users additional content relevant to the action they took so they can stay longer on your site and find out more about your business. More importantly, thank you pages help in the tracking process.
Make sure to give your goal a specific name like shown below: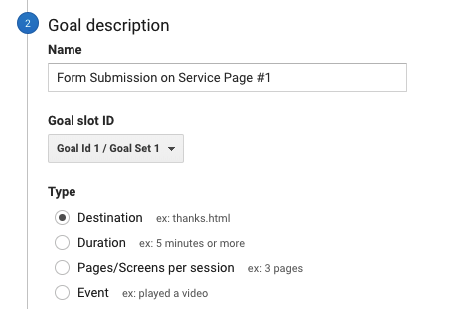 In "Destination" enter the URL of your target "thank you" page.
3. Make the content on your site interesting
A very strong way of turning visitors into leads is by having strong content on your site. Tell them about your industry, acknowledge their needs and prove why you're better than other options put there.
Develop content for each stage because each piece of content will serve a different purpose in your funnel:
Content at top of funnel – this includes blogs, articles, tip sheets etc. and should have information relevant to your audience's needs and goals. The primary focus here should be education and not sales.
This type of content can be the most creative like using infographics and checklists.
Lead magnets like downloadable guides can also be offered at this stage in exchange of their email address so users get a free valuable resource and you can add them to your email list.
Middle-of-funnel content – this is where you can show your audience why you're better than your competitors through testimonials, case studies etc. Give your audience clear information about your product/service and you can start sounding 'promotional' at this point. Customers are deciding whether you're the right choice for their needs and you need to convince them.
Bottom-of-funnel content – you give your visitors one final push to take action maybe through demos or pricing pages and discounts.
4. Find out where the 'leaks' are
When (through advertising campaigns and strategies) new potential customers are 'poured' down the funnel do they all reach the bottom? No, only a handful does. In fact, the average conversion rate is 2.8% to 6% only. So, what happens to the rest?
Each level of the funnel is a filter where users who aren't interested will be filtered out. These exits are the leaks in your conversion funnel.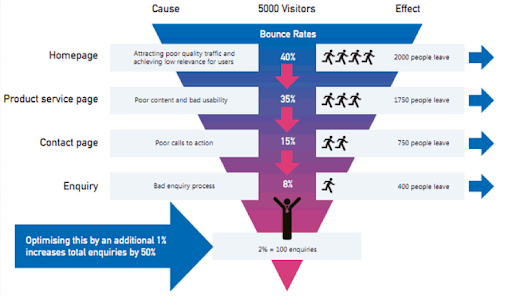 But you can't just let all these leads go – you need to identify if your site is doing an effective job of retaining them and making them move to the next step.
With the right tools you can identify the leaks and hence work on those areas. Use Funnel Visualization report in Analytics to identify your funnel issues.
So, you know where exactly you're losing customers and what steps they taking or aren't taking.
While some 'exits' are harmless (like going away from a signup page if you already have an account) some exits indicate a major area where you need to put in some work (visitors leaving high-converting pages for less important content).
Also, you might want to consider that maybe there isn't a leak in your funnel and just maybe you didn't design the funnel accurately. To find this out, look at your Reverse Goal Path report which shows how the users arrive at the conversion.
5. Fix issues in the conversion funnel
With conversion rate optimization, you can test the changes on your site with the aim of increasing conversions. The changes can be new calls of actions, different button colors, and updated forms and so on. Your site optimization has to be based on the insight you gather from your target audience.
Start by fixing the pages you've identified as leaks in the funnels. For example if you find out that a lot of people make it to the cart page but don't complete the purchase, focus on optimizing that page. There are can be numerous reasons for cart abandonment and some are identified below:
6. Add more offers to your sales conversion funnel
Remember the 'leaks' we talked about? While with the help of better-optimized pages or call to action you can persuade some users not to exit others can be persuaded by attractive offers.
These customers will be perfect for one of your other products or services – just like if a customer isn't interested in buying the most expensive car, the salesman doesn't shoo him away! He shows him other affordable options.
Likewise you need to figure out what to do with customers who aren't interested in your main offer. If you offer multiple products or services, smaller sales are good for the business nonetheless.
One of the ways of keeping users from exiting is launching an exit-intent popup – if a user is about to leave without converting, these popups will appear. This is the time to hit up the user with an offer better-suited to their needs.
For example offering a discount code works well:
7. Bring in qualified leads from the beginning
Optimizing your funnel for users in the middle and bottom stages is essential because that's where conversions and revenue comes from. But if you start bringing in visitors from the start that are likely to be qualified leads won't that make a lot of difference too?
Being too general in your initial ad campaigns means a large percentage of your traffic not being qualified — hence a lot will leave your funnel even before the second stage.
Focus your marketing efforts on your most qualified leads. When you'll attract high quality traffic you'll see how more visitors become customers.
8. Keep leads in your funnel through emails
Email is an extremely effective way of contacting your visitors and reminding them to come back and learn more about your business. Please bear in mind that the content should be relevant to their needs and interests.
The use of drip campaigns and autoresponder emails will make your life easy. You can take the different needs of different users in account and send relevant content to each of your subscribers.
Here's an example of a drip campaign (series of automated, time-based emails):
Notice how they establish the brand personality and come across as friendly and accessible. They also inform that you'll soon be getting "some highlights with our best content to help you get started." This means the following emails will be helpful for someone in the beginning of the conversion funnel.
Here's how you can structure your emails:
First, send them an automated confirmation after they signup, with a quick "thank you" and some links to additional resources on your site.
Five days later, send a second email that encourages them to read a blog or article (which addresses their questions).
A few days later, follow up with company-specific information about one of your products.
Within two weeks of their signup, send an email that encourages them to request a free quote or schedule a call.
The idea is to slowly drive them towards conversion. First establish trust and then send a sales pitch. You can also alter your campaigns based on the response of the users.
9. Retain your existing customers
Once a user has explored your website, engaged with your email content and made a purchase, do not let this user go!
Did you know? It costs 6-7 times as much to earn a new customer than retain an existing one! And the probability of selling to an existing customer jumps up to 60-70%.
Users, who already have information about your company and are convinced already, will make a second sale quicker. Now your job is to keep them engaged with your brand and automated emails are the way to go about it.
Offering a discount code for the next purchase is a good idea:
An optimized conversion funnel may be a bit challenging to develop but it is definitely worth the effort. If you're feeling overwhelmed or need some guidance, we're here to help!
At 4M Designers, we understand your business needs so trust us to handle it all for you!